How I Became a Certified Search Engine Marketer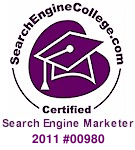 I recently became a Certified Search Engine Marketer through Search Engine College after spending a bit of time enhancing my Online Marketing skills. I came across the Certificate Course through my local community college when I wanted to update my skills for the new digital economy. The Course is entirely online and you get all the benefits of online instruction like learning up-to-date and in-demand job skills, and having the ability to start working any time you have the time, and set your own pace for completion.
The Classes
One of the things I liked about the course is that it helped me to refine my Search Engine Optimization (SEO), Pay Per Click Advertising (PPC), and Website Copyrighting skills, even though I have been informally performing these skills on the job and in my own businesses for more than a decade. I like how the course brought together the "random" nuggets of knowledge I've acquired throughout the years, and presented it in a standardized, easy-to-follow format. I also appreciate that the Certificate Study that I completed included tutor-guidance, which meant that I could get help and feedback, in addition to graded work assignments that help me further improve my skills in each of the classes I took.
You typically follow a sequence of classes, starting with Search Engine Optimization 101, then moving on to SEO 201. For me, having been on the web what seems like forever, a lot of the stuff in the 101 class was just reiterating what I already knew, but I what's really great about the first course is, if you don't know it, it will lay a wonderful foundation for you. The SEO 201 course is also a great way to build on the skill set that you've begun, and I have to say that I found it personally useful in revising and search engine optimizing the content of my own websites.
Next, was Pay Per Click Advertising 101, which was a much needed introduction for me, despite the fact that I'd been a Google AdWords Customer for quite some time, and had already spent plenty of money learning how PPC Ads work through my own "trial-and-error" method. The great thing about the PPC 101 course is, just like the SEO 101 course, it lays a very good foundation to help you understand how pay per click advertising works AND why you'd want to consider using it. The best part of the PPC portion of the Certification Course is PPC 201, which is where much of the knowledge you've learned about SEO and PPC really comes in handy.
The culmination of the four (4) SEO/PPC courses that are required is the one (1) elective that you get to choose from. You have a choice of Web Site Copywriting 101, Web Site Usability 101, Article Marketing & Distribution, or Copywriting for PPC 101, but I chose Web Site Copywriting 101, because I knew it would provide me with a skill that would be able to help me as soon as I completed the class. I have to say that the WSC 101 course was mind-blowing, because it not only helped me improve my copyright skills, but it helped me get a much better idea of who my best customer is for my business, what's the best way to target them AND what's the best way to write in copywriting language that will convert them to PAYING CUSTOMERS!
I feel like the Web Site Copywriting 101 course was worth its weight in gold, and pretty much makes the cost of the entire Certified Search Engine Marketing Certificate completely justifiable, however if I had to do it all over again, I'd still take all five of these courses together, for what I've learned has helped me improve my skills and it makes me more marketable as Technology & Social Media Specialist.
So Who is Search Engine College?
The day I received my certification, someone asked me this. The tone with which they asked was somewhat disrespectful, but it's a legitimate question. I'm sure you can do a search online and find any number of "schools" that are offering classes on just about any topic that you can imagine, but Search Engine College (SEC) is an online training institution offering tutor-supervised courses and self-study courses in Search Engine Optimization, Pay Per Click Advertising and other Search Engine Marketing subjects. It's led by search engine optimization industry expert Kalena Jordan (a really nice lady), and many of their courses are distributed to universities and college through joint ventures, which is how I found them.
I felt comfortable working with Search Engine College in this entirely-online classroom environment because they actually have a history of providing their services (having been founded in 2004), and on the web, where things change quickly and internet companies come and go, that was impressive to me. I also like how their tutors and online forums made available for each course were helpful and secure, so I always knew I had somewhere to turn when I had a question. Another thing I liked is that the tutors are some of the search engine industry's most recognized names, and they have the reputation and experience to provide tons of useful guidance.
Why I Recommend Search Engine College?
One of the first things I wanted to do when I completed my Certified Search Engine Marketing Courses was to tell others about it! It's a great program and I can personally attest that it's informative and you'll definitely learn a lot that can help you enhance your online marketing skills. I think it's an awesome refresher course for a web-savvy raconteur who's been on the web for a while, and a great eye-opening and educating experience for a novice. Additionally, it was a fun and thought-provoking experience. I can definitely say that I finished the course with a much better sense of how search engines can work to market a business, and how I can position myself within the online market place as a web-savvy Online Marketer capable of meeting the needs of my customers and stakeholders.
For all these reasons, I highly recommend Search Engine College's Certified Search Engine Marketing Course, and I'm sure that you'll find it to be as valuable and intriguing as I did!
By the way, if you decide to start the Certificate Study, you can always send me a message and ask me questions.
Certainly a worthwhile endeavor!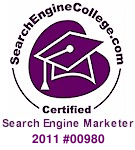 Kindra Cotton, Certified Search Engine Marketer
Return to About Kindra